"Even Berserkers Can Understand!"
Mafia Kajita's FGO Lessons! Part 12
Introducing our recommended Servants!
(Rider, Caster, and Assassin edition)
Hello there, this is Mafia Kajita's "Even Berserkers Can Understand!" Where we will kind of explain the game's more complicated aspects. Episode 12 will continue with my introduction of Recommended Servants based solely on my own opinions. By the way, that Okita Souji, her stats are basically for Assassins! Just how many critical stars can she generate per turn?
Well, enough about Ms. "I am going to kill all of Satchou!" For this episode, I've picked Servants that are ★3 and under for Rider, Caster, and Assassin classes. Who should you raise? This is a must-read for newbie Masters.
Let's begin with the Rider-class. We have Georgios and Edward Teach that are ★2, and Ushiwakamaru, Alexander, Boudica, and Medusa that are ★3. Fans of the original work will root for Medusa…and we want to say the same, but here comes Mr. Georgios.
There are higher chances to acquire him, as he is a ★2, and he has unusually high HP. His best feature is his ability to apply Target Focus and increase DEF for himself with his Guardian Knight skill. In this game, where ATK effectiveness heavily depends on Class Affinity, you can't overlook his skill to draw all of the attacks for three turns. Ascending him three times will unlock his Battle Continuation skill, which lets him draw the enemy Servant's NP to him, while being tricky and also applying Guts for himself.
He will act as the perfect tank in any party formation, and is the perfect companion for a squishy but OP Berserker-class Servant. Despite being a ★2 Servant, chivalry is not dead as he protects Servants of ★4 and ★5. You can't help but show him respect by calling him, "Teacher!" even if you're not Mash.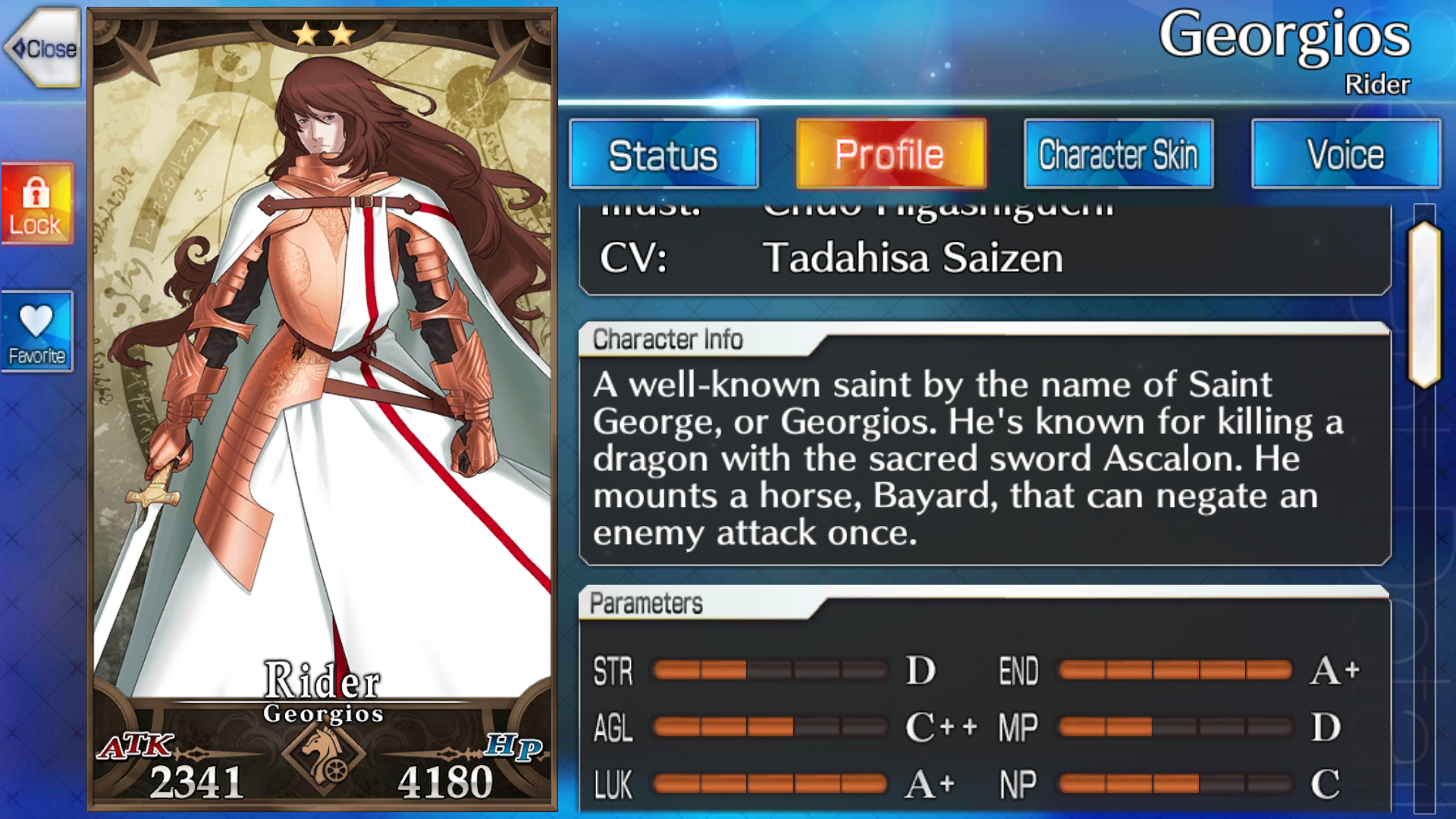 Next for Casters, there is Wolfgang Amadeus Mozart for ★1, Hans Christian Andersen and William Shakespeare that are ★2, then Cú Chulainn, Mephistopheles, Gilles de Rais, Paracelsus von Hohenheim, Charles Babbage, and Medea that are ★3. A more common Servant with interesting characteristics is definitely Andersen, but because he needs ★5 Jeanne d'Arc or Tamamo-no-Mae to bring out his best, he may not be suited for all. Cú Chulainn, who has outstanding skills and NP on the other hand, is given to everyone who clears the first chapter in the story, but since we've already featured Lancer-class Cú Chulainn…
We ended up choosing Medea-san. Her NP charges efficiently as a Caster, but she is also equipped with the skill, Rapid Words of Divine, which instantaneously charges her NP to 80%. Now, leveling up this skill will also increase the amount her NP Gauge charges, and her NP will be charged to 101% at Level 4 so it can be unleashed right away.
Her NP, Rule Breaker, deals significant damage and removes all buffs for a single enemy, while restoring her NP Gauge. She will definitely come in handy against Servants that unleash troublesome Buffs one after another. While you can't expect too much power from her, she will be an even more fun Servant when equipped with an NP-related Craft Essence, letting you unleash her NP one after another like no other.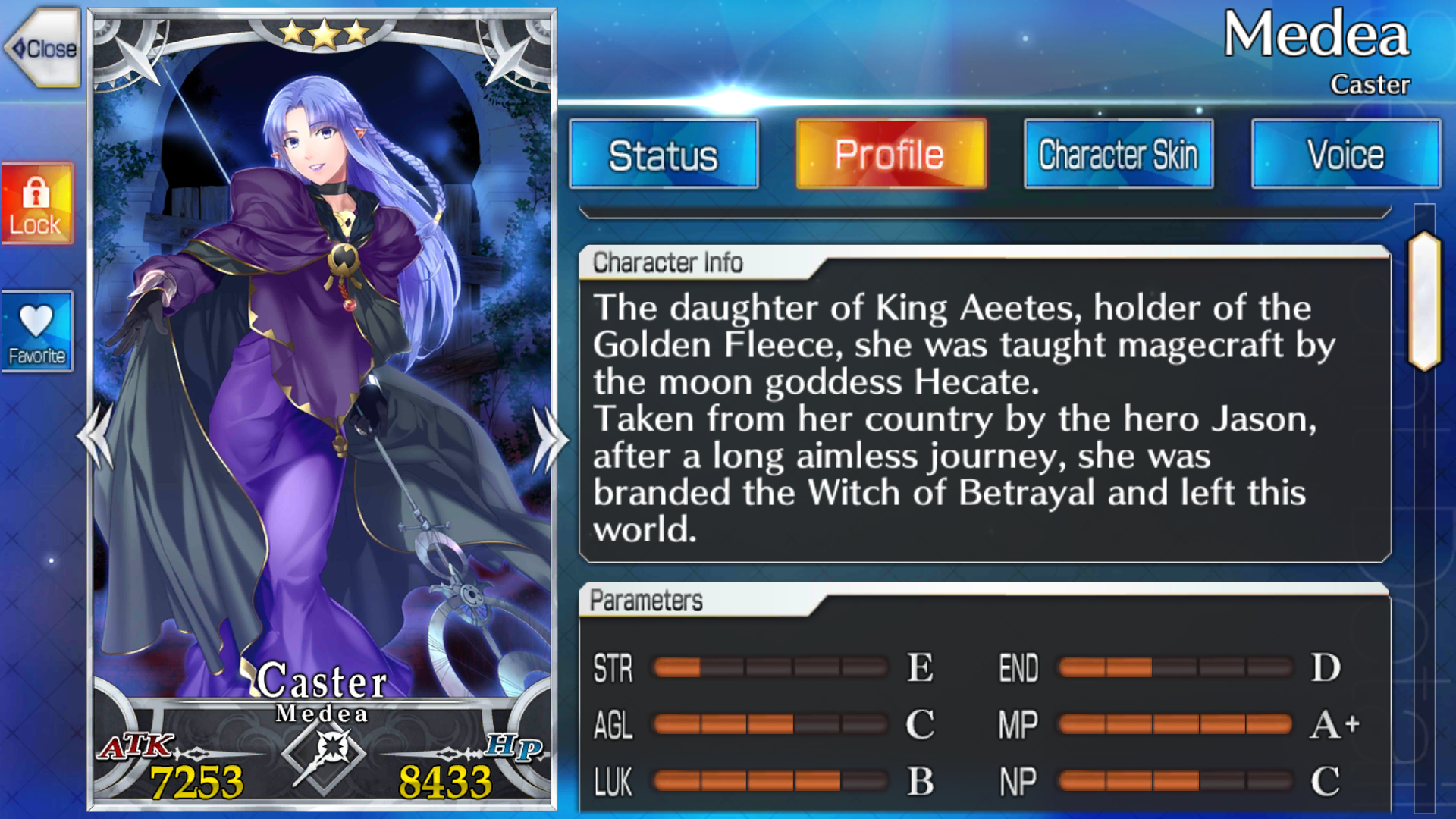 Finally, the Assassin class. There seems to be plenty of Assassins available, with Sasaki Kojirou and Mata Hari that are ★1, Hassan of the Cursed Arm, Charles-Henri Sanson, and Phantom of the Opera that are ★2, and Jing Ke and Henry Jekyll, who are ★3. My current favorite is ★3 Assassin, as well as the very first Servant that I summoned, Jing Ke…but I will choose Master Hassan here, who is an excellent ★2 Servant for beginners.
He looks the most like an Assassin out of all of the Assassins. In addition to the class skill "Presence Concealment A+" that increases his C. Star Drop Rate, you will not realize that he only comes with 1 Arts card from how quickly his NP charges. Ascending him 3 times will unlock his skill, Protection Against the Wind, which gives him 3 times evade and increase his C. Star drop rate by 3 turns, you will want to raise him more to extend his survival in the game.
His NP of Zabaniya is the only Noble Phantasm that has high chance to instant kill an enemy without any side effect, and Overcharging it will further increase that chance. Using it correctly can one-shot most monsters and shadow Servants. You can also expect his Noble Phantasm to deal high amounts of damage as it's single-target.
Personally, I find him to be more superior than a ★4 Carmilla or Stheno. Just like Georgios, he might be a low-rarity Servant, but he's definitely not a weak one.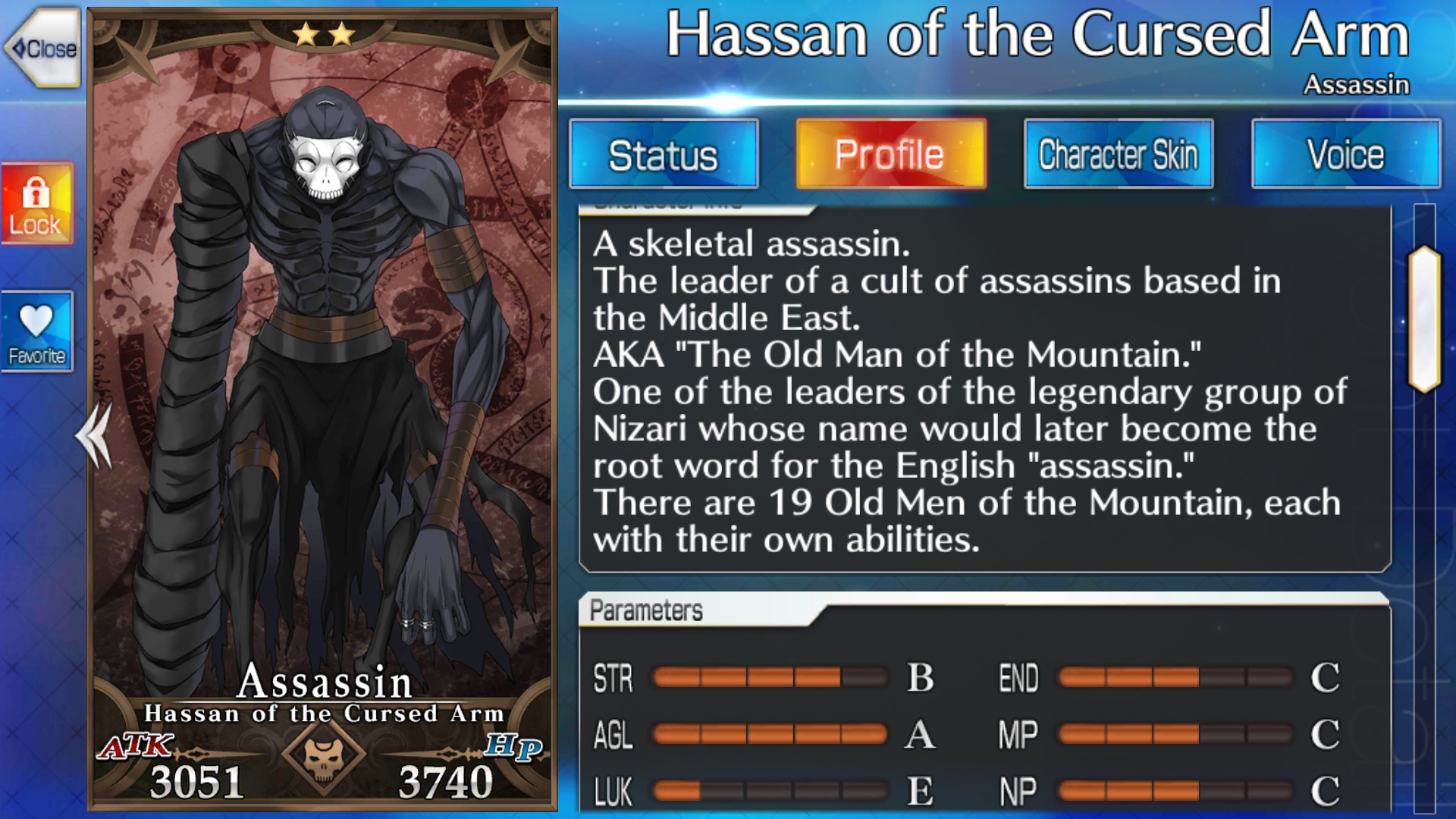 That's it! Next time, we will introduce the highly-anticipated Berserker class, and the extra classes…Mash of Shielder-class and Jeanne of Ruler-class.
[Original Article Written By: Mafia Kajita]